Jason Paul in Istanbul
In 2014 I had few days in to make a photo story about Jason Paul who was visiting Istanbul and performing some of his tricks against some of the city's most iconic landmarks.
On the first evening we tried to shoot the same "moving twirls" we did in Kayakö with Pasha. But this time, we would have the city light and Boshporus bridge in the background - that's the bridge that connects Europe and Asia.
I have to admit, the idea was nice, but it was really hard to get the picture right without the use of photoshop! It wasn't possible to put strobe lights behind Jason as we were right on the water's edge.
After trying for one and a half hours I was ready to accept defeat and admit that it just wasn't going to work. But Jason persevered and asked me to give it few more tries. I placed the strobe as far back as possible, changed the angle of camera, and wow... it worked!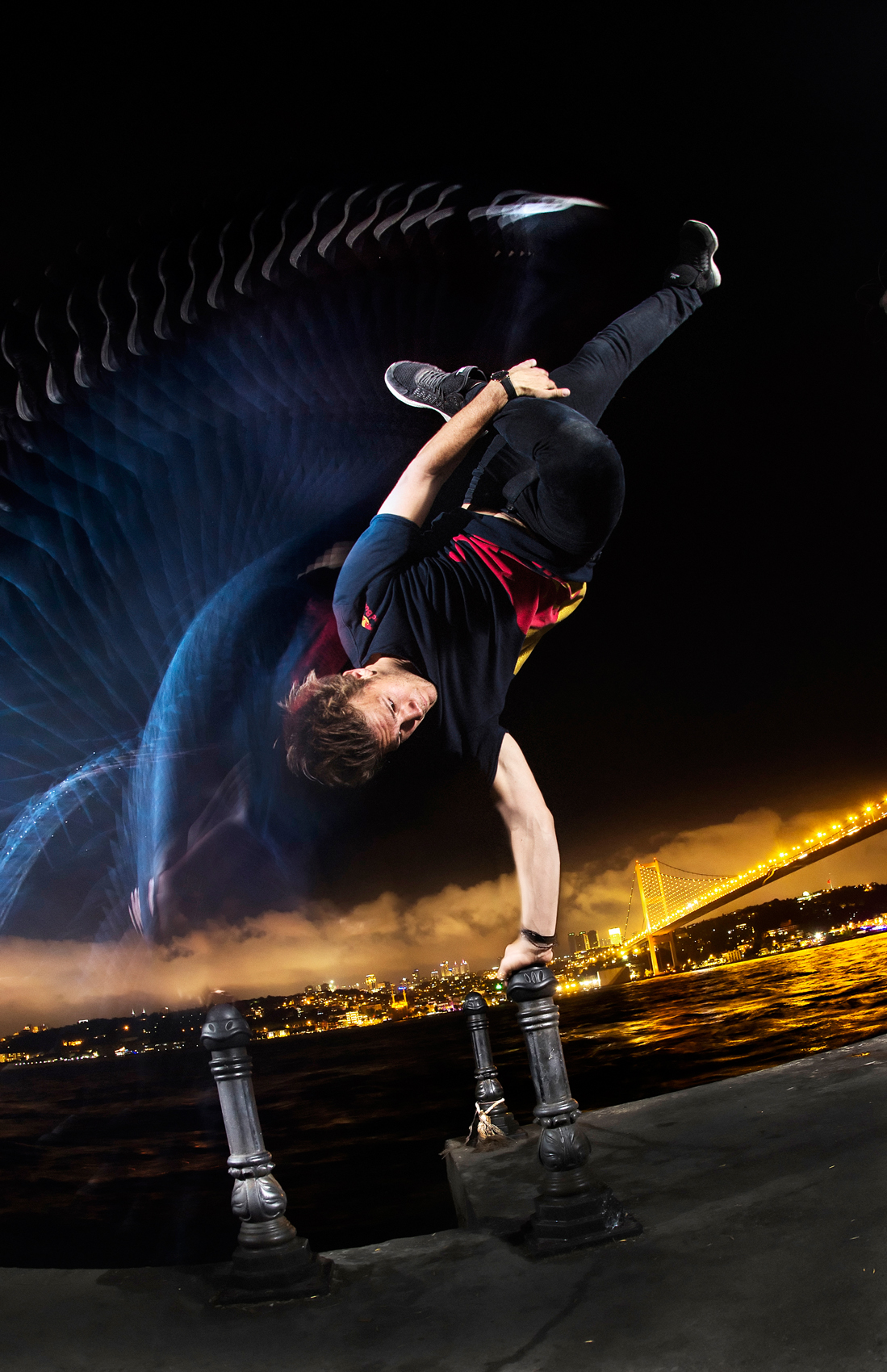 Strobe with blue film from 110 degrees on the left and two flashes on 60 degrees from camera with CTO gel on them. Nikon D4, Nikkor 16mm fisheye - 1,0 sec; f/5,6; ISO 640
On the second day, we were hanging around Istanbul - shooting at various other iconic locations.


This one was captured on top of the Valens Aquadeduct which dates back to the 4th century.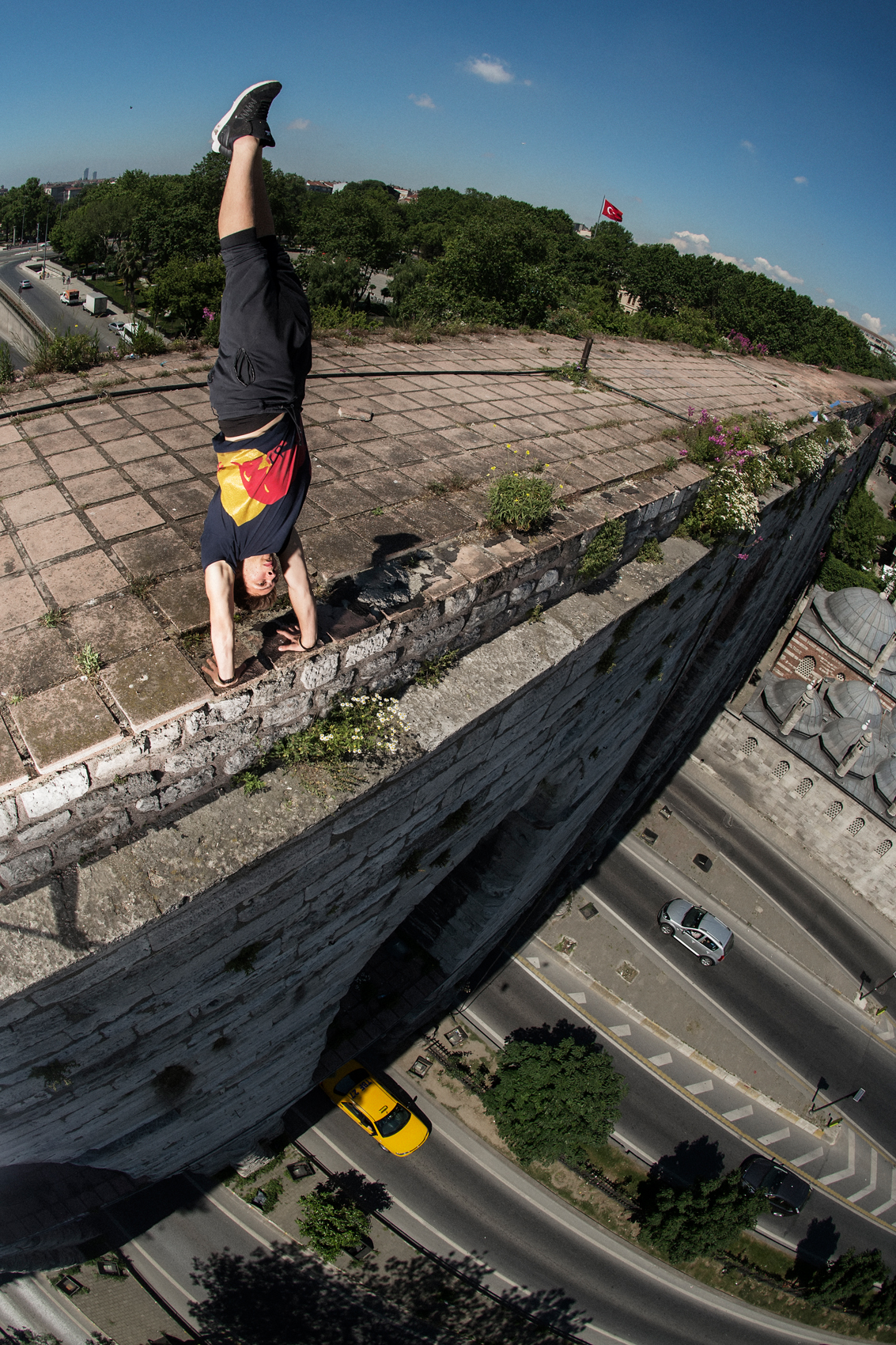 Shot with remote Nikon D4 and fisheye on the pole.
We shot some flips inside the Blue Mosque. We hadn't registered the shoot and as I was using the flash so we thought we would only get one try before getting thrown out. In the end, we did it more than ten times and left - voluntarily - with this great shot.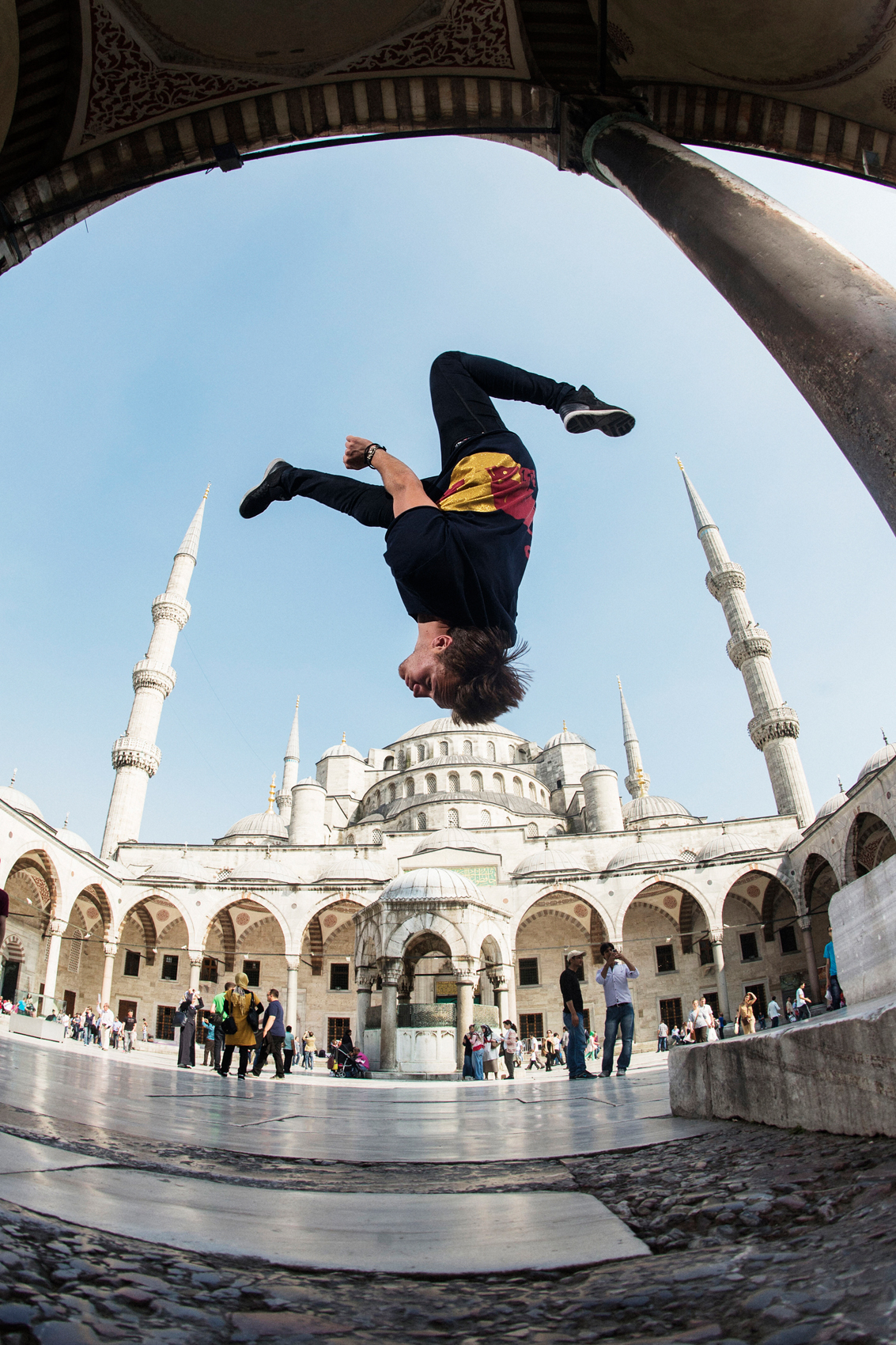 Nikkon D4 ; Nikkor Fisheye 16mm
This one was captured during the Istanbul sunset with the Hagia Sophia in the background.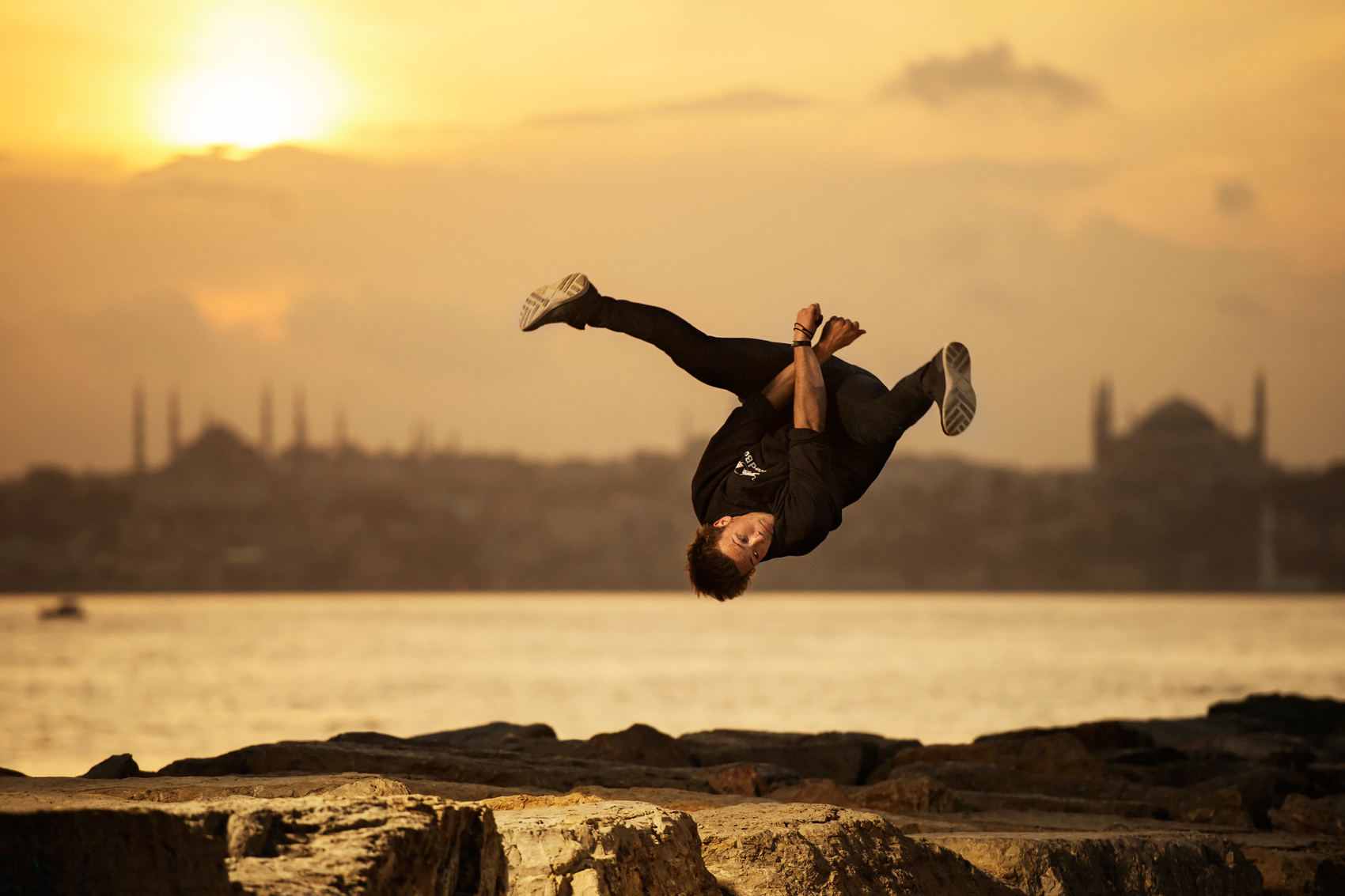 Shot with Nikon D4 ; Nikkor 70-200 and softbox with CTO on the right
1/1000 sec; f/2,8; ISO 250
These are the ferries that drive between Asia and Europe. The idea for this shot was on our to do list but we were sure that we wouldn't be allowed to do it. We came across two ferries in the dock with a perfect gap and took our chance! One minute Jason was giving me a focus point on top of one of the ferries, and the next minute he was jumping onto the other! Before anybody realised what we had done, we were gone.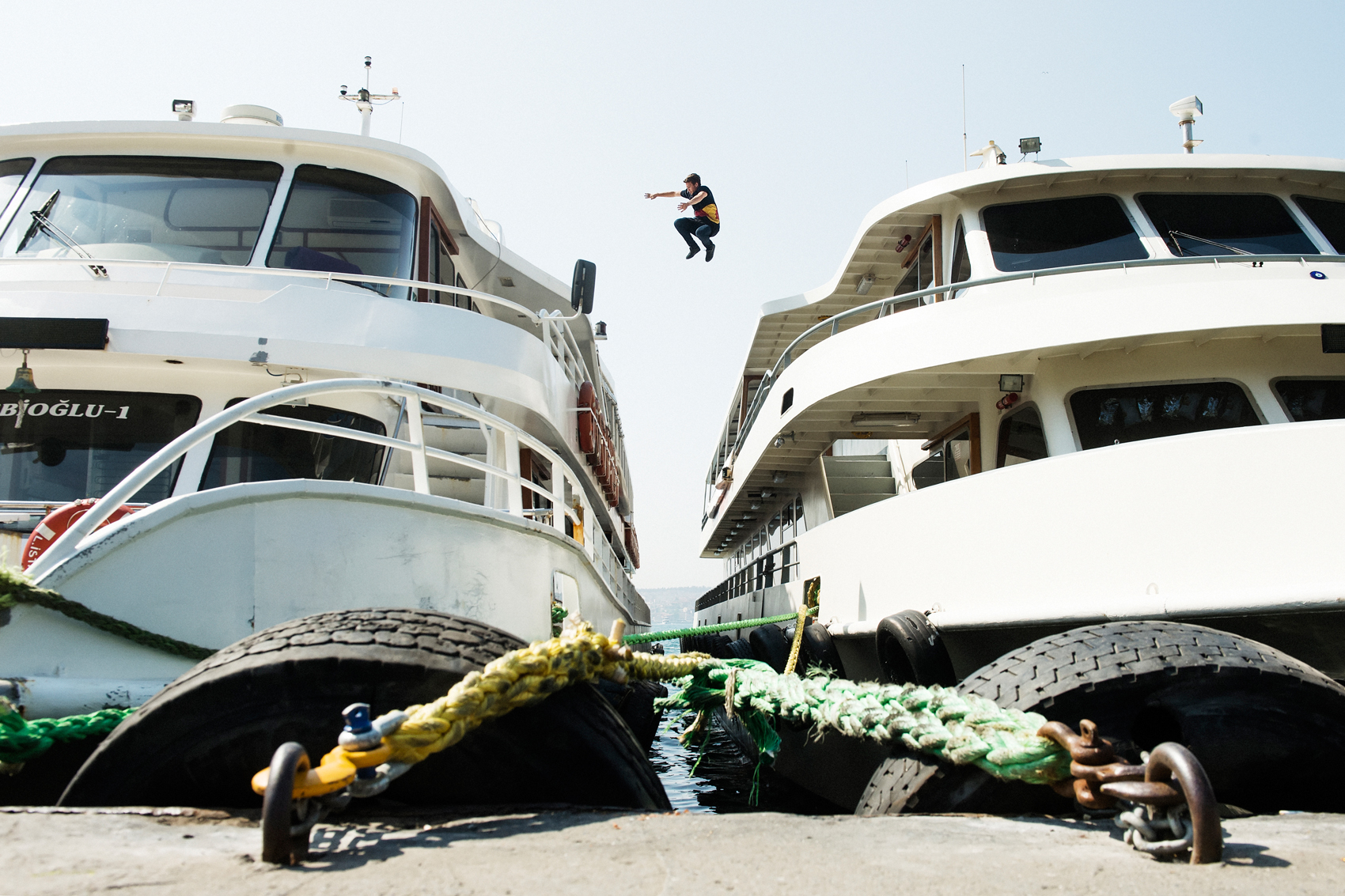 Nikon D4 ; Nikkor 24-70 1/1600 sec; f/8; ISO 640